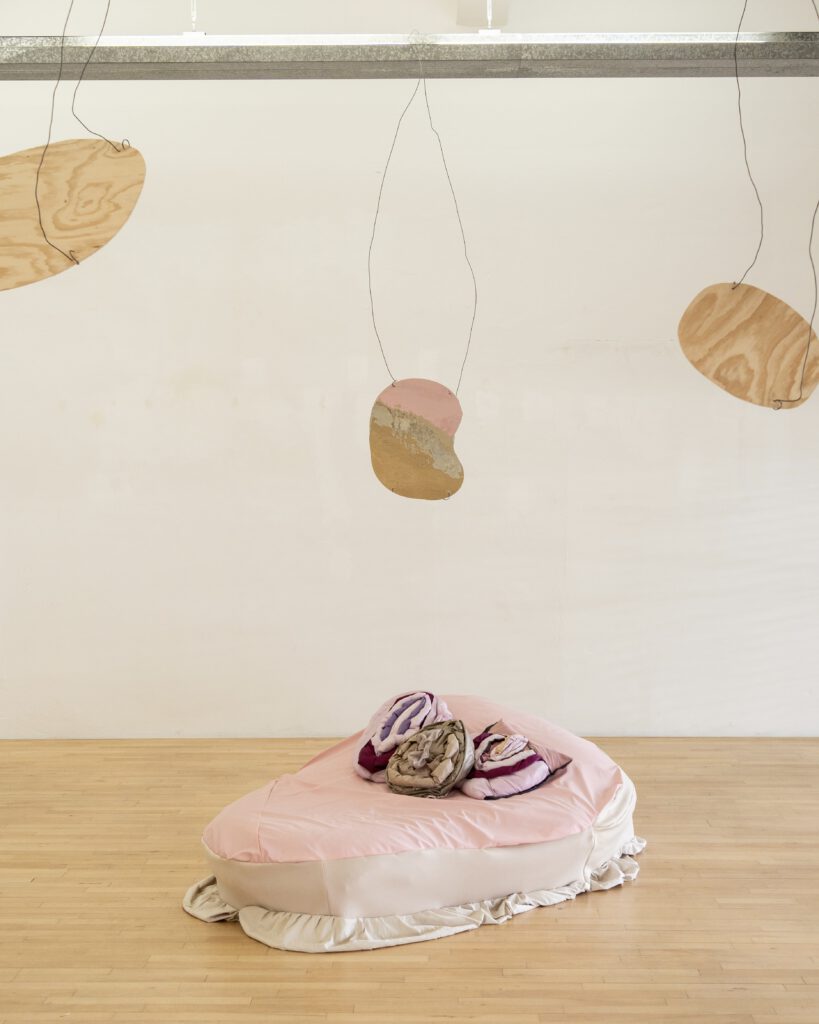 bouncing boundaries
Group exhibition in TOR Art Space Frankfurt am Main, 2023
Group show with Lisa Sebastikova, Leslie Nagel, Carmen Westermeier, Julia Hainz, Ulrike Markus, Aura Rendón Benger 
The exhibition bouncing boundaries aims to delve into the intricate relationship between the body, movement, and space from an artistic perspective. It serves as a platform for six artists, who, for the first time, come and work together at the TOR Art Space, in Frankfurt am Main. Through their distinct artistic approaches, the artists explore the theme, presenting works specifically created for the TOR Art Space. The exhibition invites visitors to engage critically with the multifaceted connection between space, movement, and the body.
Throughout art history, the realms of space and the body have been intertwined and subject to extensive discourse.
This exhibition project focuses on the various ways in which the body moves through, occupies, and is defined by both physical and conceptual spaces.
Movement as a Parameter
Carmen Westermeier and Julia Hainz will conceive a performance for bouncing boundaries that explores the interplay between the human body and its constructed environment, as well as the architecture of the exhibition space. The artist duo draws upon concepts that are, for example, used in motion capture today. Fixed points on their bodies define movement and encode the exhibition space.
Movement as Spatial Resonance
Ulrike Markus works with long, thin metal rods that correspond to the architecture. She plans to interact them with glass objects that she will create specifically for the exhibition at TOR ART SPACE. It's about balance, fragility, and capturing movement through static sculptures.
Movement as Duality
Aura Rendón Bengers' textile, air-filled sculptures move to their own rhythm and appear as independent beings. They tell stories about bodies, concealment and revelation, strength and vulnerability. The theme of femininity is revealed in the interplay of distance and proximity, comfort and discomfort.
Movement as Narration
Leslie Nagel creates freestanding sculptures using various materials such as iron, paper, and fabric. Through simple mechanisms, the sculptures move and unfold their own character: they vibrate, they squeak, and they interact with the environment and the artist in a performance.
Movement as Intervention
Lisa Sebestikova creates an installation that relates to the architecture of the exhibition space. Like an echo, she reconstructs the characteristic ceiling structure on the floor. The duplication becomes a disruptive factor while also inviting visitors to engage with the sculpture. A new environment is created, new paths emerge, and freedom of movement is transformed.